Internal links are an important SEO factor, that helps search engines understand website structure and index more pages of a website. They also tell search engines which pages on your website are the most important.
However, building internal links manually is a time-consuming task. Fortunately, WordPress users can simplify the process by using a plugin like Slim SEO Link Manager. This powerful tool is designed to help website owners create and manage internal links quickly and easily, saving time and improving website structure.
In this article, we take a look at the Slim SEO Link Manager's features and see why this plugin is a good choice for link building in WordPress.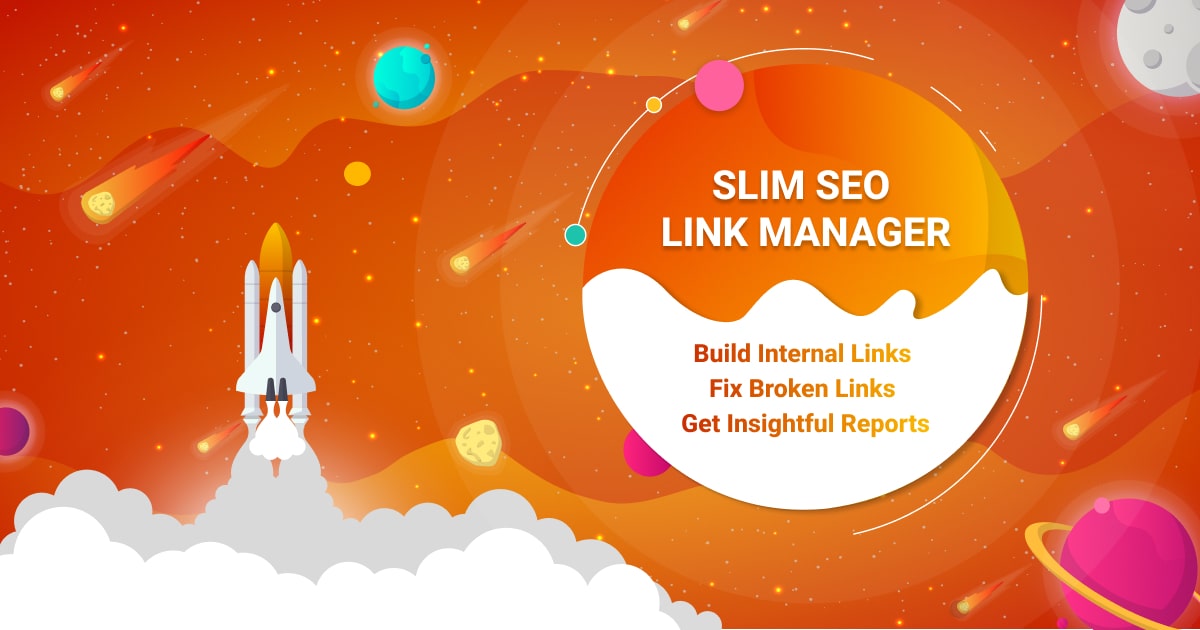 Why are internal links important?
When writing posts, we usually link to related posts on our website to provide more information to users on the same topic. So, if they want to learn more, they'll know where they need to go.
By providing more information to users, we have a chance to keep users on the website longer, which will increase the time on site and reduce the bounce rate, which are important SEO factors.
Besides, the number of internal links that pages have is a signal to search engines that tells them which pages are most important. These pages will probably have a higher ranking on the search results pages.
Finally, linking to a new page from an old, indexed page will let search engines discover and index the new page faster!
Introducing Slim SEO Link Manager
Slim SEO Link Manager is a WordPress plugin that helps you build and monitor the links on your website. It's built by me and my team at eLightUp. FYI, we also create Meta Box, a popular custom fields plugin with more than 700.000 active installs. Slim SEO Link Manager is a plugin in an SEO suite of Slim SEO, a fast and lightweight SEO plugin for WordPress.
Take a look at the intro video of Slim SEO Link Manager to understand how it helps you build internal links in WordPress:
http://www.youtube.com/watch?v=8LayAy-NZMs
Slim SEO Link Manager Features
Slim SEO Link Manager provides a toolkit to scan and analyze links in your posts and get an insight into what's important on your website and update or fix any link in seconds. Its key features are:
Automatic Link Suggestions: it

automatically

suggests related posts based on the title and content of the current posts in real-time when you write. Besides, you can search for related posts by keywords (and it also suggests keywords from your post content).
Insightful Link Reports: the plugin provides a real-time report of links when you write posts, and also reports all links on your website, such as most linked pages, orphan pages, or keywords.
Automatic Internal Link Updating: this is an interesting (and important) feature that automatically updates all links to a post when its slug changes. This ensures your internal links are always fresh, updated, and working.
Broken Link Checker: the plugin also monitors all link statuses on the website, so you can see which links are broken or redirected to fix them.
This is a screenshot of how the plugin suggests related posts when you write:
Here is the screenshot of the top linked pages report, which is the most important report in Slim SEO Link Manager:
You can find more information and screenshots about the plugin on its page.
Why should you choose Slim SEO Link Manager to build internal links?
Slim SEO Link Manger helps you build internal links effectively with an auto link suggestion mechanism. This method helps you avoid looking for related posts and analyzing them manually, which takes a lot of time. And not building links blindly, the plugin also provides insightful reports, so you know you're doing it right.
Moreover, Slim SEO Link Manager and all the plugins of the Slim SEO family, they're very lightweight and fast! We always code plugins with performance in mind and this is an important factor for us. You might want to read why we built Slim SEO.
Another interesting feature of Slim SEO Link Manager is that it can work with other SEO plugins like Yoast SEO or Rank Math. While it works best with Slim SEO, of course, it's not limited to be used with Slim SEO. So, if you already use another SEO plugin, you still can use Slim SEO Link Manager with all of its features.
Conclusion
Building links is an important task in SEO, and having a good tool to help you streamline the process is important, too. Slim SEO Link Manager is a good choice for that. So, if you're looking for a WordPress plugin to build links, check it out!